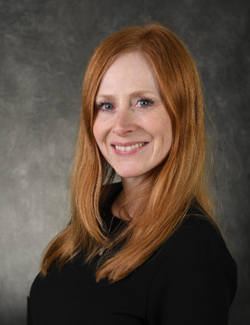 Department
Modern Languages and Literatures
School
School of Arts and Sciences
Languages
French, Spanish
Biography
Morgan Callan Stinson received her Ph.D. in Modern French Studies from the University of Maryland. Dr. Stinson's research focuses on portrayals of intimacy, interior spaces, and the uncanny in contemporary theater, the novel, and autofiction.  Her most recent research examines the intersection of family structures and individual agency.  
Presentations
Stinson, Morgan (2019). "Troubled Spaces: Cruel Optimism in the Works of Marie Ndiaye." Paper presented at the South Atlantic Modern Language Association Conference, Atlanta, Georgia.
Stinson, Morgan (2019). "Trauma and Optimism in French Contemporary Theater." Paper presented at the Northeast Modern Language Association, Washington, DC.
McMahon, Morgan (2017). "L'exil et l'extériorisation dans Une envie de tuer sur le bout de la langue de Xavier Durringer."  Paper presented at Johns Hopkins University Graduate Student Colloquium, "Effects and Affects of the "In-between"", Baltimore, Maryland.
Co-chair, University of Maryland's School of Languages, Literatures and Cultures' Graduate Colloquium, Breaking New Ground: Pluralistic Approaches to Global Ecocriticism (2017)