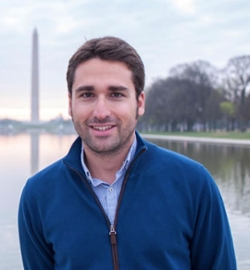 Teaching Fellow
Department
Modern Languages and Literatures
School
School of Arts and Science
Languages
Biography
Juan Carlos Ceballos Torres was born in Sevilla, Spain. He joins the Catholic University as a Teaching Fellow in the Department of Modern Languages, Spanish language program, and at the same time, he is studying his masters in Hispanic Literatures and Cultures. He earned his Bachelor's degree from the Complutense University of Madrid in Optometry and previously worked as an optometrist in Spain and most recently in Kenya, where he was working for two years (2016 - 2018).

Throughout his work and travels, his passion for languages, culture, and meeting new people grew, which led him to pursue his masters at Catholic University. Through the teaching fellowship, he is looking forward to sharing the Spanish language and culture with the students.

In his spare time, Juan Carlos enjoys listening to music, cycling, photography, going out in the city, hiking and being outdoors. He recently climbed Mt. Kilimanjaro in Tanzania.