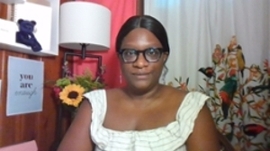 Department
Modern Languages and Literatures
School
School of Arts and Sciences
Languages
Italian
Biography
Dr. Lyons is a dedicated global educator and passionate advocate for all students' self-actualization and has over 15 years of experience developing the global competencies of foreign language and culture learners at the secondary, undergraduate, and graduate levels. She educates with the goal of empowering all students to become engaged global citizens while also helping them develop 21st -century skillsets so that they learn to more fully self-motivate, self-direct, and self-manage both their studies and their budding careers. Dr. Lyons has held teaching positions at Montgomery College, Yale University, The Catholic University of America as well as with Prince George's County Schools.  
Dr. Lyons is currently working on a book project and several journal articles in which she uses interdisciplinary methods and decolonial approaches to study cultural remediations of visualizing technologies in Italy to expand frameworks shaping the study of these technologies' presence in culture beyond issues of modernity to include as well those of its dark side, coloniality.
Selected Publications
Lyons, Kenise. "A Voice from the Margins: Reflections of a Sister Outsider on Her Voyage to Italy and through Italian Studies."  In Press.
Lyons, Kenise. "'Pro o Contro La rabbia': Elsa Morante, Pier Paolo Pasolini and the Work of Art in the Atomic Age." Elsa Morante's Politics of Writing: Rethinking Subjectivity, History, and the Power of Art. Ed. by Stefania Lucamante. Madison, New Jersey: Fairleigh Dickenson UP. 2015. 247-256. Print.
Invited Talks
"Beyond Besieged: Black Femininity and the Location of Culture in Italy." Language Research Center Speaker Series, University of Calgary, October 4, 2019.