Yousif Kalian and Katie Sharma both graduated from CUA in 2016 where they became colleagues and close friends majoring in World Politics with a certificate in Islamic World Studies. Their shared study abroad experience in Rabat, Morocco gave them a greater appreciation for their area of study and allowed them to gain valuable linguistic and cultural experience.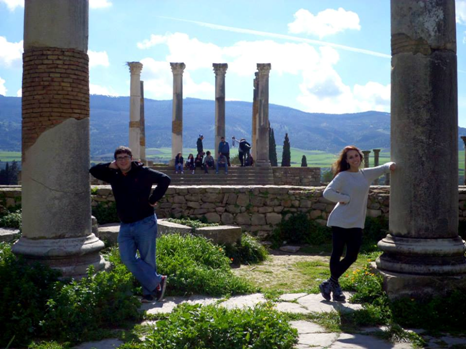 When Yousif Kalian (CUA 2016) and Katie Sharma (CUA 2016) first met freshman year in "Intro to Arabic," their differences may have seemed striking. Yousif grew up in Philadelphia to parents from Mosul, Iraq while Katie grew up in Maine. Yousif spoke the Iraqi Arabic dialect at home while Katie had not spoken or written Arabic before. However, they quickly bonded over shared classes and majors: World Politics with a certificate in Islamic World Studies.  Their ambition to master the vastly complex Arabic language has since united their journey through the Catholic University of America and beyond.  Katie and Yousif studied abroad together in Rabat, Morocco, the first extended experience living in the Middle East for both of them.  Says Katie of studying abroad, "Having a Catholic background with strong respect for faith and traditions, and a greater respect for Islam, helped us understand that's what best for us is not always best for everyone."  Yousif concurs: "We could draw lots of parallels with our Moroccan host families, such as fasting traditions.  We also connected with Moroccans around family life and some dating and courtship issues.  Having a Catholic background made us appreciate difference and respect Moroccans as Moroccans, rather than wanting to change them."
Later back in Washington, Katie and Yousif interned in the same non-profit office located near Union Station.  In reflecting about their experience at "In Defense of Christians" (IDC), which advocates for protecting certain vulnerable groups of Christians in the Middle East, they spoke glowingly of a milestone that validated their hard work.  In March 2016, former Secretary of State John Kerry publicly designated ISIS/ISIL's crimes against Christians, Yezidis,  and other ethnic and religious minorities in Iraq as acts of genocide, adopting much of the language and proposals that Yousif and Katie were involved in researching first-hand.
Even Yousif and Katie's family lives have become intertwined.  Their mothers met sophomore year when Katie was planning Yousif's surprise birthday party.  She invited his and her parents, and remembers "when his mom and my mom met in person, they both cried and called each other 'sisters.'  Now they text and talk on the phone.  They go church hopping  and travel around Philly together."
Post-graduation, Katie's and Yousif's nuanced knowledge of Arabic language and Arab societies has carved unique paths for them in the nation's capital.  Katie received a full scholarship to pursue a Masters in International Affairs at CUA while working part-time in the Honor's program office.  She is currently weighing federal job options, and speaks candidly about the importance of her language skills in the job search process.  "I was offered different employment options because I know Arabic, one hundred percent.  My perspective as a CUA graduate who speaks Arabic has caught the attention of different job offices, and distinguished me from graduates from other DC institutions.  Recruiters are very interested in my vision of ethics as a CUA graduate."  She adds that taking recently added advanced Arabic courses, such as "Media Arabic," "is a great talking point for interviews.  They're very impressed with how all four skills (reading, writing, speaking, and listening) were used and how I can understand Al-Jazeera news clips."  
Immediately after graduation, Yousif interned at the Middle East Institute and he now works at the Washington Institute for Near East Policy.  As a Research Assistant for the program on Arab Politics, he covers important trends and developments in Egypt, Lebanon, Jordan, and Iraq.  Describing his most useful skills in the job search process, Yousif says: "I definitely was hired because I spoke Fusha (Modern Standard Arabic); my boss in DC was looking for that.  I also use concepts from the CUA course "Development and Humanitarianism in the Middle East, Africa, and Beyond" all of the time at work — from how to contextualize qualitative versus quantitative data to decoding 'ivory tower' jargon to discerning the relationships between different stakeholders, like non-governmental institutions and the World Bank."  Yousif also shares, "Growing up Iraqi, politics are central to your life, and now I can finally communicate about what is happening in Arabic.  This has enabled me to have deeper conversations and connections with my family that I wasn't capable of before."