Maggie McCabe graduated in 2016 with a BSN in Nursing and a Certificate in Spanish for Health Care. She recalls well her life-changing clinical trip to Nicaragua over spring break where she honed her nursing skills while expanding her linguistic and cultural knowledge. She attributes her success as a well-rounded and culturally engaged nurse today to the Spanish for Health Care trip organized by professor, Jennifer Maxwell.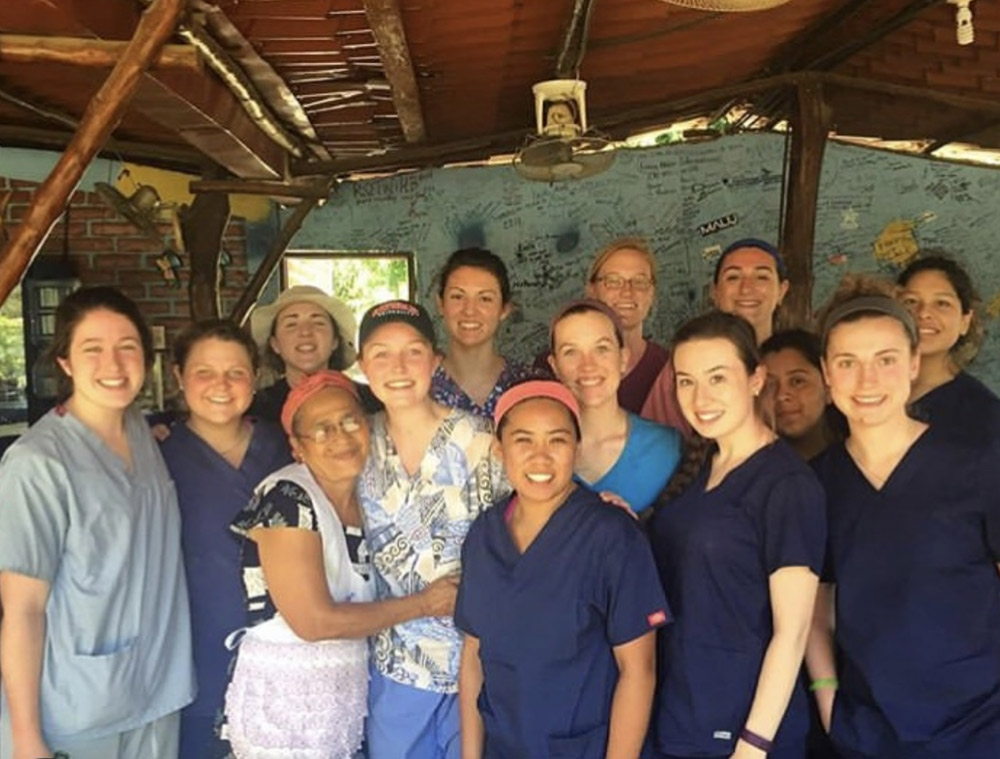 The international clinical practicum trip to Nicaragua that I took with my Spanish for Health Care professor, Jennifer Maxwell, during Spring break my senior year was one of the greatest experiences of my life so far. The memories I have from our trip are some of the best memories from college, and on top of that, the technical skills that we utilized while abroad were some that I use today that help me in my job as a nurse in Philadelphia.
In addition to working at the Roberto Clemente clinic, we also organized and facilitated a health fair that was hosted by the local public clinic in Salinas, Nicaragua. This was an eye opening experience. We were fortunate enough to meet various people from surrounding rural communities and assist in taking vitals, shadowing doctors and nurses with their patients, and most of all practicing Spanish with all our patients and family members! We relaxed after long days of work in the clinic in Playa de Popoyo at the Cafe con Leche bed and breakfast where we shared family style dinners, stories from our day and most of all, enough laughs and smiles for a lifetime. Our daily reflections after work were relaxed and open, making it easy to learn from one another's successes and challenges.
I wish for all students to be able to have an experience like this because it has truly changed my personal and professional life for the better. I thoroughly enjoyed every aspect of our trip to Nicaragua, and if the opportunity presented itself, I would volunteer again in a heartbeat. The program was professionally run and handled with the utmost care to make sure that each participant was an active member of the group and was comfortable in medical and cultural situation that we encountered. I feel that through our daily public health and clinical work in Nicaragua I have grown to become a more linguistically and culturally competent nurse. The experiences I gained working with marginalized populations has made me more comfortable in the clinical setting, as well as more confident in my Spanish speaking abilities. I can wholeheartedly say that I would not trade this experience for the world. I thank all of my CUA peers who participated in this life changing experience, but most of all I thank my Professor, Jennifer Maxwell for making the trip meaningful and enlightening.